Christine Gyrsting Lorentzen, (born January 13, 1979) known by her stage name/ nickname "Lore", is the current lead vocalist for Cryoshell. She has been singing and working with music in the greater part of her life.
Prior to Cryoshell, Lorentzen has recorded in Los Angeles, done model work and in 2006 starred in the Danish version of the TV show Star Search and later that year, she hosted the Danish version of the worldwide successful TV concept Strictly Come Dancing. Since then, Cryoshell has been Lore's dedication, and with her powerful and intense voice, she draws people into the Cryoshell universe.
In late 2006, Lorentzen was offered the chance to sing vocals in a one-off recording project; the song Creeping In My Soul. She was joined by Kasper Søderlund on guitar and Søren Bendz on piano. The song was used as the soundtrack for the popular LEGO toy theme BIONICLE's 'Barraki' toyline. The song proved to be a hit, rapidly becoming as the most downloaded MP3 from the official LEGO website.
Over a year later, Lore, along with Søderlund and newcomer Mikkel Maltha, released a new song for BIONICLE to help promote their 'Mistika' toyline, Closer To The Truth, and at the same time, decided on a band name; Cryoshell. The trio later announced plans to release an album to be released in Fall 2008, but delays had caused the album release to be moved to a later date. In 2009, Cryoshell released a fifth and final song for BIONICLE as well as their first official single, Bye Bye Babylon.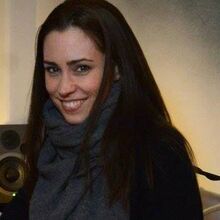 In 2010, Lorentzen and her bandmates released their debut album in their home country of Denmark. They are currently working on a worldwide release.
Personal Life
Edit
Lorentzen lives in Copenhagen, located in the Hovedstaden region of Denmark. She worked and studied at Advance, a creative agency, for ten years and has been employed with nearly every job title available in the business. Lorentzen left the company in the Summer of 2010 a few weeks pregnant